Los Amigos 4-H Club Meeting
August, 2012
At 7:00 pm
Dunlap Elementry School
Flag Salute - 4-H Pledge - Snacks
Our meetings are the 2nd Tuesday of every month.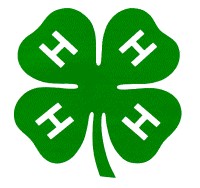 4-H Pledge
As a true 4-H member,I pledge

My Head to clearer thinking

My Heart to greater loyalty

My Hands to honor service

My Heath to better living

for my Club my Community

my Country and my World.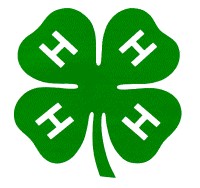 4-H Emblem
The 4-H emblem is a four leaf clover with the letter "H" on each leaf. The four H's stand for Head, Heart, Hands, and Heath. The leaves of the clover are green and the H's are white. The white is four purity and the green is natures most common color and symbolizes youth, life, and growth.
4-H Motto
To make the best better.

Below you will find places to get Record Book Forms. Print them up at the beging of the 4H year and use them to keep your records. Rewrite them nicely at the end of the year and earn awards for your Record Books.